The band is currently fund raising for Diabetes UK, to help Luke to re-run the London Marathon.
Two members of Chris' family are running the London Marathon in aid of Diabetes UK. They have a vast £2,100 each to find to enter. Strathallan are playing for a fund raiser ceilidh to help them achieve their target. Please come and support us, have fun and you will be doing much to support those with diabetes too!
Date: 03 July 2022
Location: Farley Wood Community Centre, Binfield, RG42 1FW
Time: 2pm – 5.30pm
Details and to reserve your ticket: https://www.eventbrite.co.uk/e/diabetes-uk-charity-ceilidh-tickets-198190472037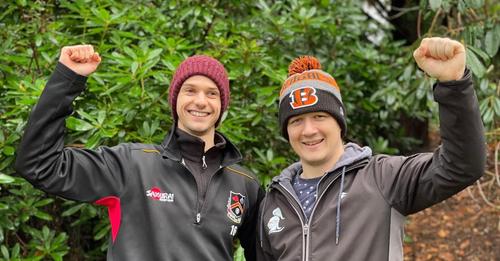 It was always' our Son-in-Law, Luke's dream to run the London Marathon since being diagnosed with Type 1 diabetes aged 13.
He was given that chance in 2019, but despite crossing the finish line, his diabetes stopped him from allowing him to RUN it all the way. This year, he's training even harder, working on a better nutrition plan and using newer technology to help maintain his glucose levels. But he also has the support this year of a training and racing buddy, Chris' nephew Christopher, selected by Diabetes UK to run for that cause.
Living with Type 1 diabetes isn't always easy, but Luke has never let it stand in his way. Despite a bumpy start, Luke has been very fortunate with the level of care he has received during the 16 years he has been diabetic. After confirming his serious fear of needles, Luke was the third person in his region to be offered pump therapy and, since then, technology has gone from strength to strength. He is now a user of one of the latest "cordless" insulin pumps which allows him to live his life with no limits. As such, his blood sugar control and HBA1C (indicator of diabetic health) is better than ever and that's down to the fantastic work Diabetes UK provide.