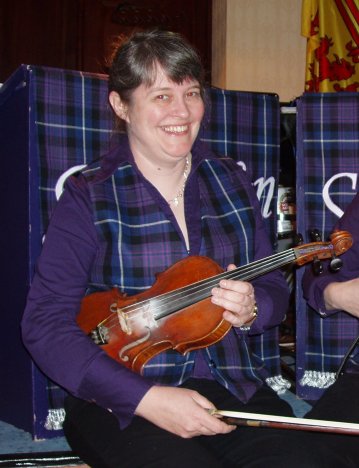 A founder member of Strathallan, Ann has played the violin since the age of seven. After 10 years of classical training she discovered she could play her grandmother's Scottish dance music, and found what makes her happy.
A chance encounter with the Cambridge branch of the Scottish Fiddle and Accordion Society in her early twenties introduced her to fiddle rallies, Shetland fiddling and the late Ron Gonella – she never looked back. She also played for the Corryvrechan Scottish display team for the first time at Sidmouth – she would later tour with them to Poland, Russia and France, and in 2019 co-led their band for Shrewsbury Folk Festival.
In 2000 she became an itinerant member of Hugh Fergusson's Scottish dance band, Dalriada, touring with them to Australia and New Zealand, and she has honed her skills guesting with numerous other Scottish dance bands over the years. She takes her fiddle most places, and has played it in both Iceland and Antarctica.
Ann has also played with ceilidh bands for most of her life – Wide Glide in Cambridgeshire, then Poacher's Pocket around Hampshire, and she still plays for local gigs with Beyond the Pale. She also plays and sings with Romsey-based folk band, Beggar's Belief